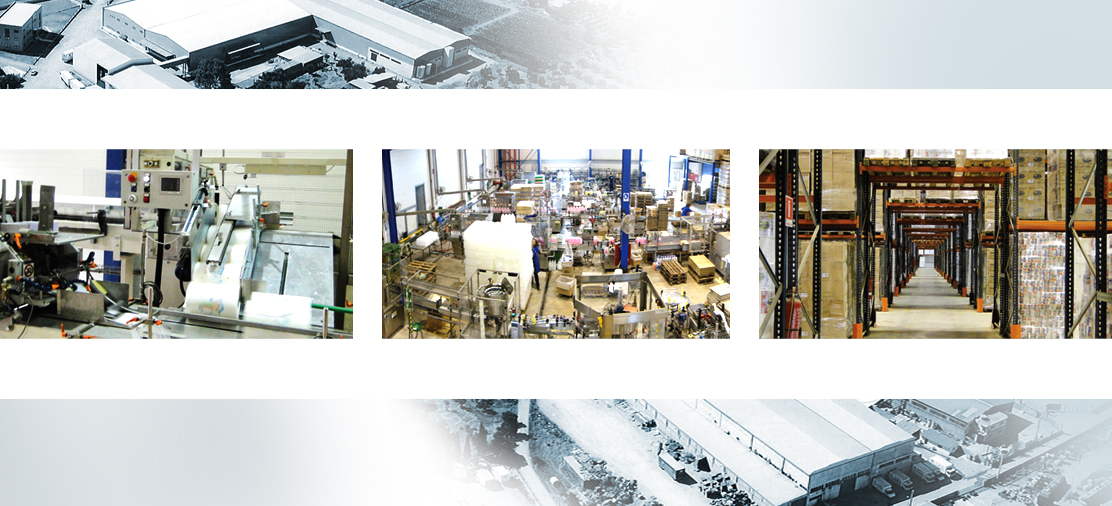 Paper items production
The tissue paper converting plant consists of 18 production lines with a total daily capacity of 250 tons. More specifically the production facilities include:
• 3 laminated paper tablecloth production lines
• 2 toilet paper production lines (2ply, 3ply, and 4ply)
• 7 paper napkins production lines
• 2 Zik Zak facial tissue paper and handkerchiefs production lines
• 1 cellulose wadding production line
• 3 production lines for kitchen towels for household and professional use (Point to Point technology, decorated kitchen rolls)
The production process is fully suppported by a highly qualified and trained technical staff. The paper production department has a raw materials and finished product quality control team that operates according to ISO 9001 and ISO 14001 and is monitored by an ERP (SAP) system. The company also uses state-of-the-art technologies and automations, achieving maximum capacity, great flexibility, high-quality products and competitive prices.

Detergent Production
The detergent production factory has been designed to produce a full range of liquid detergents with a bottling capacity ranging from 100ml to 20lit.
Analyzing the steps of the production of detergents we implement:
1) Quality control of raw and packing material
2) Production of liquid detergent (semi-final product)
3) Quality control of the semi- final product
4) Bottling (final product)
5) Quality control of final product
The production of liquid detergents is fully automatic through a system that controls both physical and chemical parameters in real time, as well as the quantity and quality of the chemicals added.
Those fully structured facilities along with our experienced personnel ensure the high standards of raw material and liquid detergent of Eurochartiki's SA products.The fact that the company has its own lab with state-of-the-art infrastructure and highly specialized personnel secures the necessary quality levels of both the raw materials and the liquid products. Samples of all produced items are kept in the respective warehouse for a year. Packaging is performed in ultra modern bottling stainless steel units, and the bottling parameters are electronically set and monitored, thus ensuring cleanliness and accuracy of contents. There is also a scanning system with lot number on every bottle that allows the final product's inspection even at the actual point of sale.
The company proceeds to the quality control of the production process and the final product, and ensures compliance with the respective standards through real time inspections and periodic retesting.
Eurochartiki has a Customer Service department that provides information about the company's products and services, and immediately addresses any problem that might occur.
High quality standards and competitive prices are the characteristics that have positioned our products among the best in consumer preferences. This recognition drives us for continuous improvement and investment in the right people, latest equipment and strict procedures.